PICKLE LAKE GOLD PROJECT
The Pickle Lake Gold Project is 100% owned by Ardiden and consists of four major gold deposits covering an area of 100km x 30km, offering significant upside exploration potential and resource-growth opportunities along 120km of prospective strike-length.
The four advanced Gold Deposits located within the Pickle Lake Gold Project are:
⬢  Kasagiminnis (Kas)
⬢  Dobie
⬢  Dorothy
⬢  Esker
Ardiden has a maiden high-grade JORC Resource of 790,000 tonnes @ 4.3 g/t for 110,000oz gold for the Kasagiminnis Deposit and at a premium grade of 4.3 g/t gold, the Maiden Inferred Resource marks the first step towards the Company's objective of building a significant high-grade resource base at Pickle Lake and in May 2020 defined an exploration target of 500,000oz to 1.2Moz @ 3.9 – 6.6g/t Au.
Resource definition drilling completed a 3,000m 'Summer' program at Kas in 2020 with the objective of building on the current JORC estimate by defining additional gold mineralisation along strike and at depth.
Drilling at the Western Hub so far has completed 43 holes for 5,939m of fully oriented diamond core to a maximum depth of 252m, comprising:
Esker Prospect – 18 holes for 2,206m
Tonsil Prospect – 19 holes for 2,680m
Dorothy Prospect – 3 holes for 655m
Dobie Prospect – 3 holes for 398m
Ardiden's drilling in the Western Hub is targeting the Golden Patricia geological sequence both to the north-west and to the south-east of the historical underground mine. The mine was developed to 750m vertical depth over a 3km strike length and extracted 619,796oz Au @ 15.2g/t Au*and ceased operations in 1997 due to poor gold prices.
The Kasagiminnis, Esker, Dorothy, Dobie and Tonsil Gold Deposit are just a few of multiple deposit-scale targets and advanced gold Prospects within Ardiden's 120km of under-explored strike.
Ardiden has also identified 23 Gold Deposit and Prospect areas that will be systematically explored with 20 currently fully permitted for early stage exploration activities.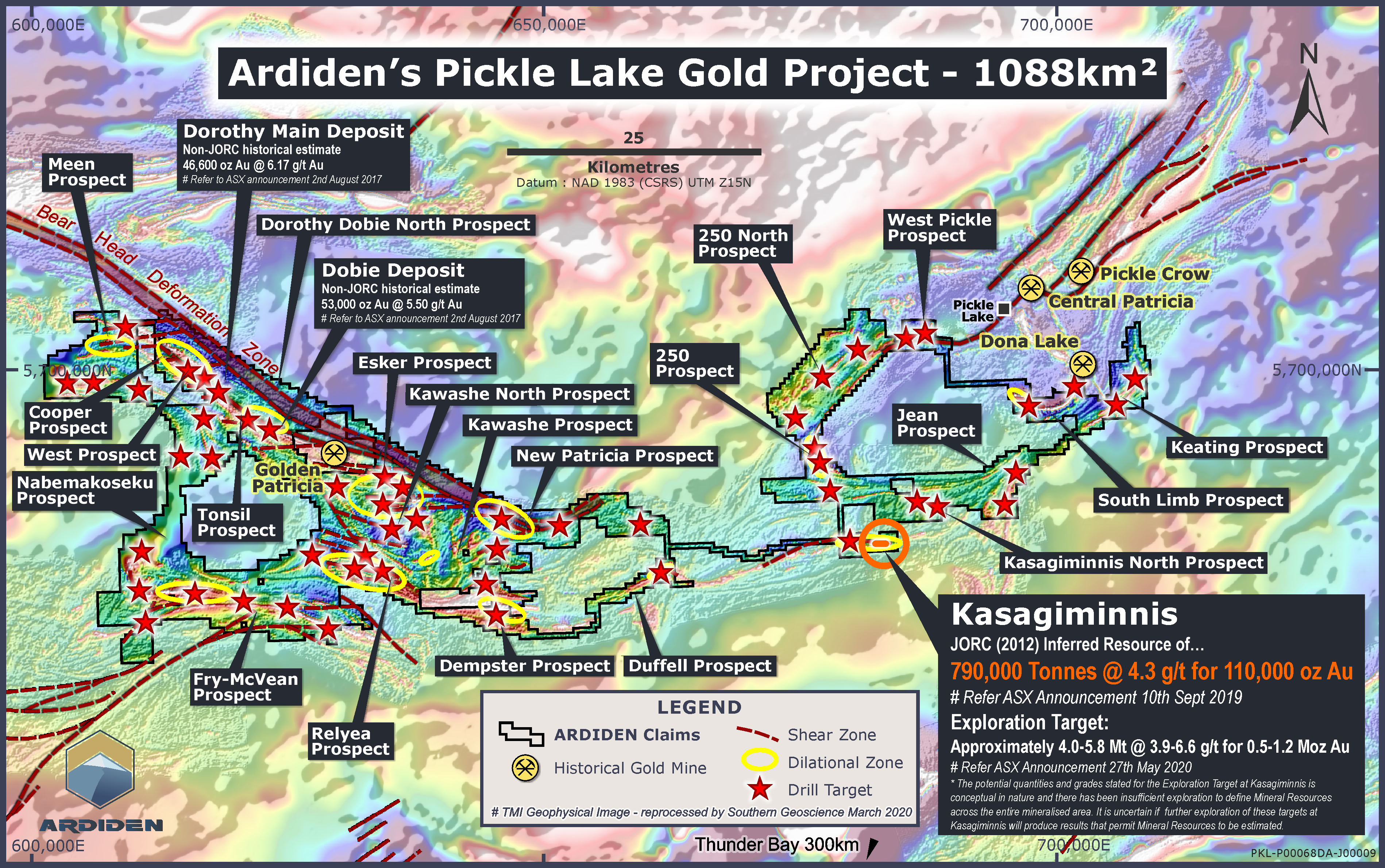 Geological targets across Ardiden's Pickle Lake Gold Project. 
Ardiden believes Pickle Lake offers the best opportunity to provide near-term shareholder value and to leverage strong investor appetite for gold within the internationally recognised Uchi Geological Sub-Province, which also hosts the extensive Red Lake Gold Camp. Red Lake has produced more than 27 million ounces of gold.
Historically, the Pickle Lake region has produced more than 3Moz gold since 1935 from four underground operations; Pickle Crow, Dona Lake, Central Patricia and Golden Patricia.
'Pickle Lake' itself is a small town located on the eastern shore of the Lake with a population of about 500. It has year-round road access and was founded as a transportation centre for mining activities after gold was discovered in the area in 1928.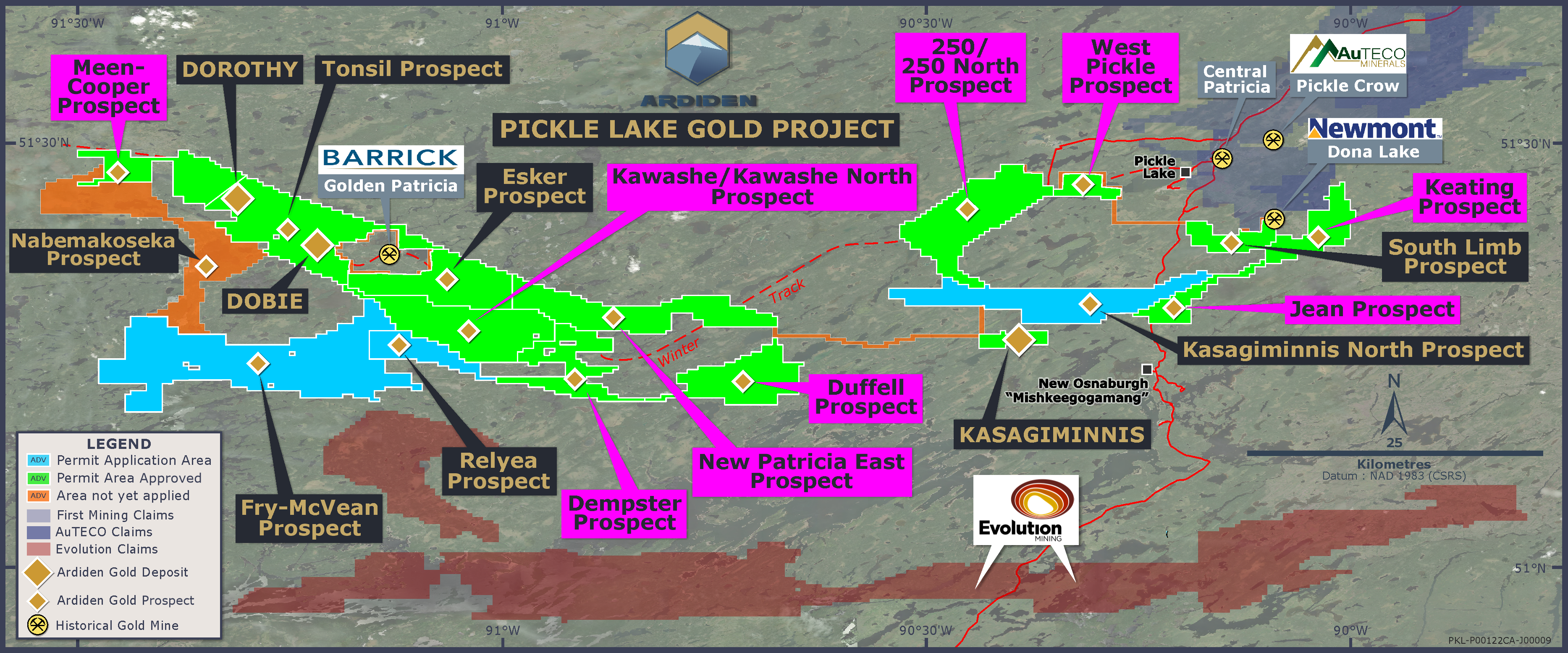 Map showing Ardiden's continuous landholding and fully permitted prospects (in blue/green) across its Pickle Lake Gold Project.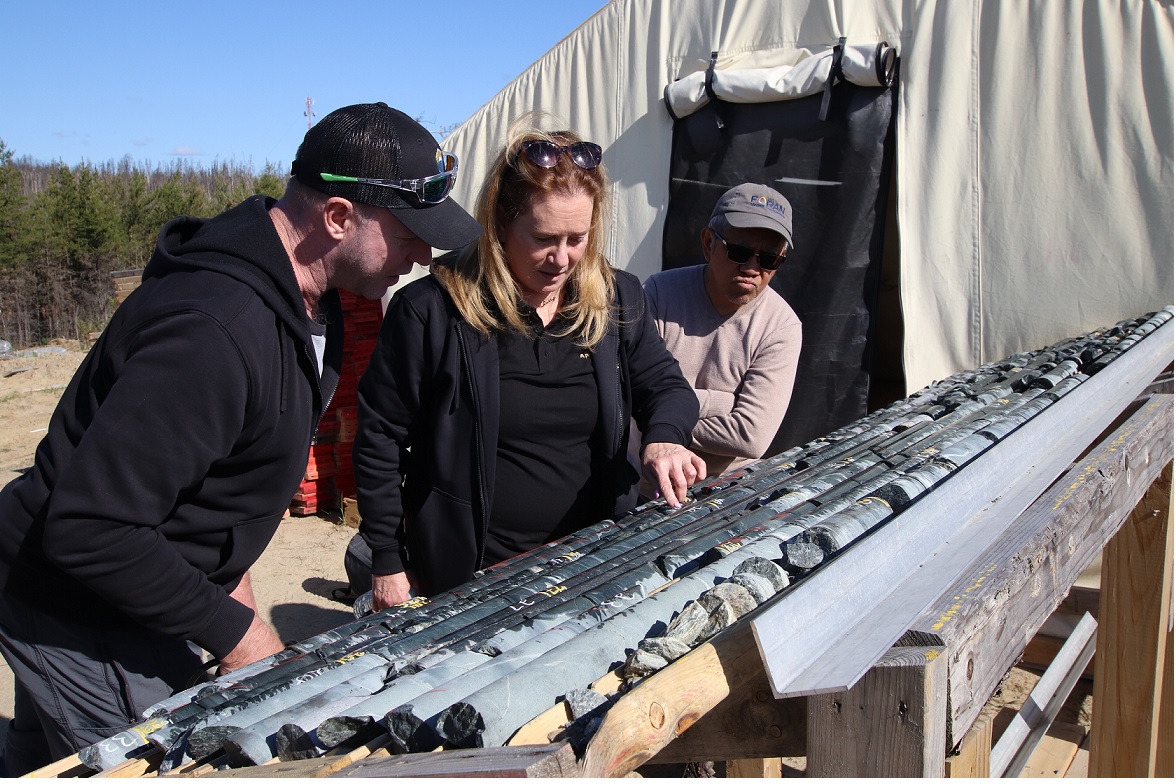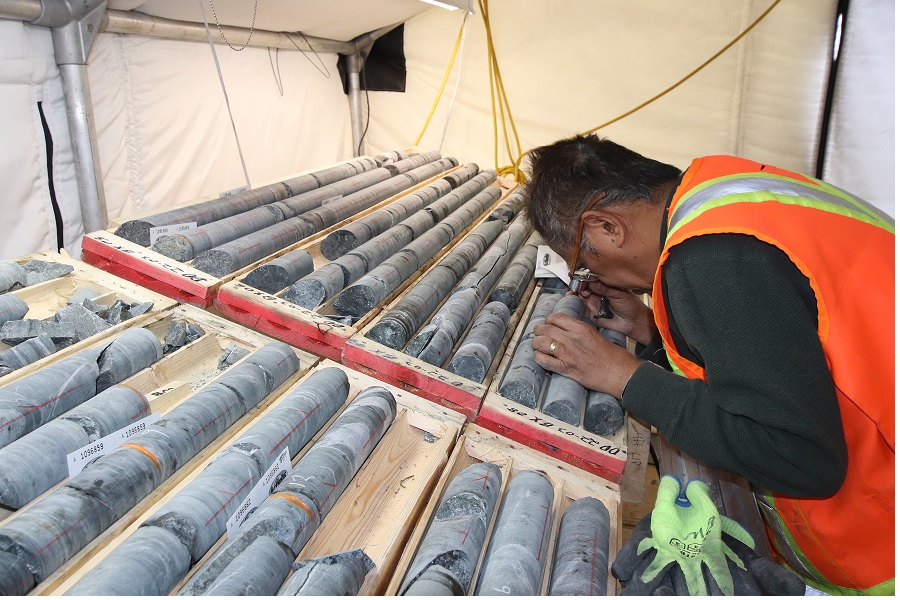 Core logging from the recent drilling program at Ardiden's Western Hub. 
*Information in relation to historical gold production at the Pickle Lake Gold Camp, and Golden Patricia Mine in Figures and notes above have been referenced from three sources of publication, namely: 1. Harron, G. A. 2009. Technical Report on Three Gold Exploration Properties Pickle Lake Area, Ontario, Canada. G.A. Harron, P.Eng., G.A. Harron & Associates Inc. 2. Smyk, M., Hollings, P. and Pettigrew, N., 2015. Geology and Mineral Deposits of The Pickle Lake Greenstone Belt. Institute on Lake Superior Geology, May 20-24, 2015 Field Trip Guidebook and 3. Puumala, M. A. 2009. Mineral Occurrences of the Central and Eastern Uchi Domain.  Ontario Geological Survey, Open File Report 6228