LITHIUM PROJECTS
In May 2021, Ardiden agreed to dispose of up to 80% of the Seymour, Wisa and Root Lake Lithium projects to Green Technology Metals Limited (formerly Great Northern Lithium Pty Ltd), a company planning an IPO on the ASX during late October 2021.  In September, Ardiden's shareholders voted overwhelmingly in support of the transaction, which will see the commencement of a 49% ADV/51% GTM joint venture over the lithium assets (JV).
As per the terms of the transaction, the Company has received $1.5m in cash, the first of up to $9.2m in staged payments from GTM.
On successful ASX listing of GTM, Ardiden will continue to hold 49% of the lithium assets, receive a further $1.75m in cash and be issued $2.25m in GTM shares. Within the earlier of 12 months of ASX listing, or 18 months of the Consideration Payment, GTM have the option to purchase up to 80% of the lithium assets for a further $3.5m payment (combination cash and/or shares).
Ardiden will also retain an initial free-carry joint venture interest in the lithium assets, (up to completion of a Feasibility Study or Decision to Mine) and hold a considerable equity position in the new ASX Company, along with Board representation.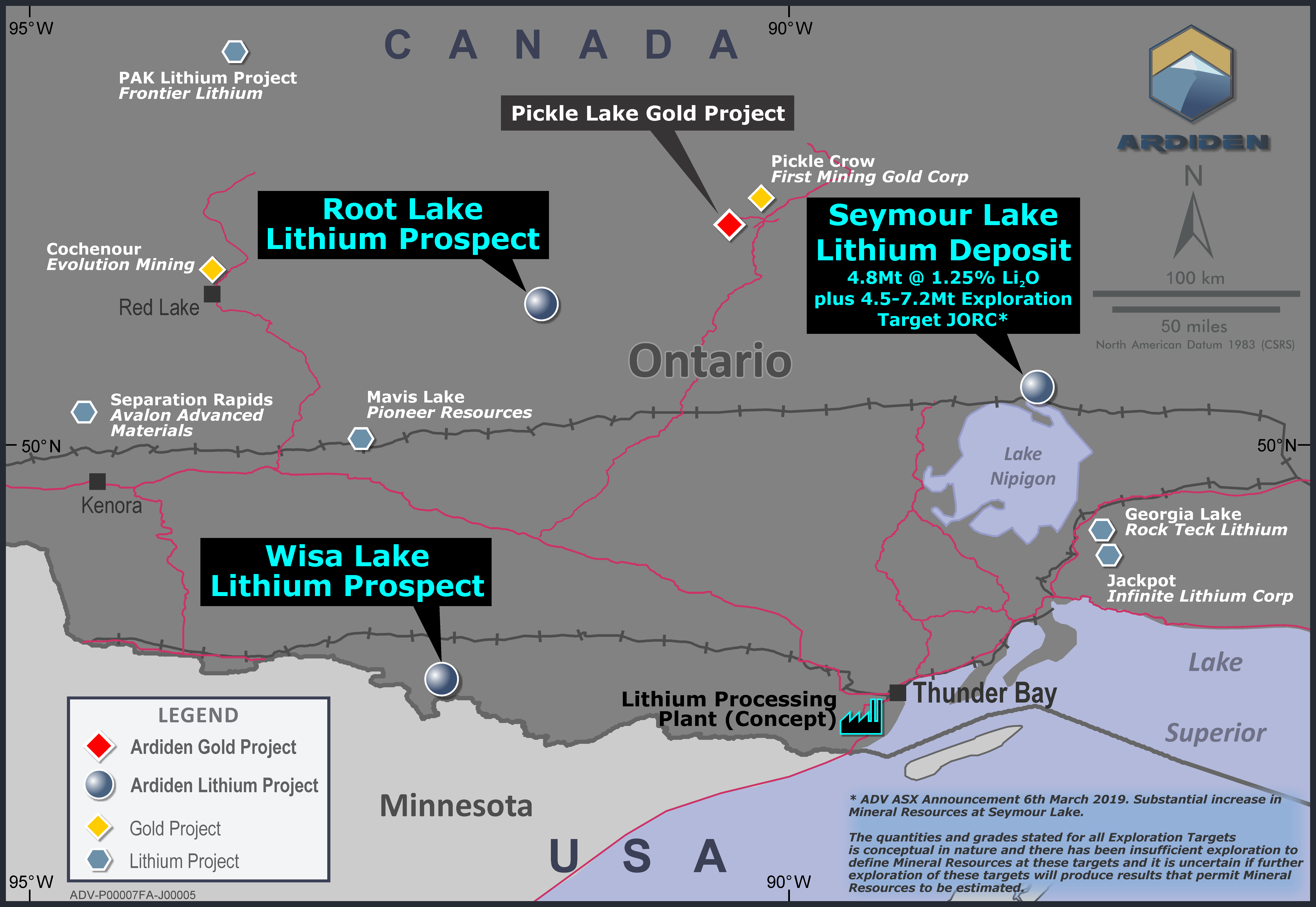 Seymour Lake Lithium Project
Seymour Lake Lithium Project is located in northwest Ontario, Canada, about 60km from the settlement of Armstrong.
In March 2019, Ardiden announced a Mineral Resource Estimate of 4.80Mt @ 1.25% Li2O and 186ppm Ta2O5, representing a 400% increase on the maiden resource estimate of 1.23Mt @ 1.43% Li2O (October 2017) for the project. This was achieved by meticulous exploration planning and execution, resulting in an upgraded Mineral Resource at North Aubry, and the definition of a Mineral Resource at South Aubry.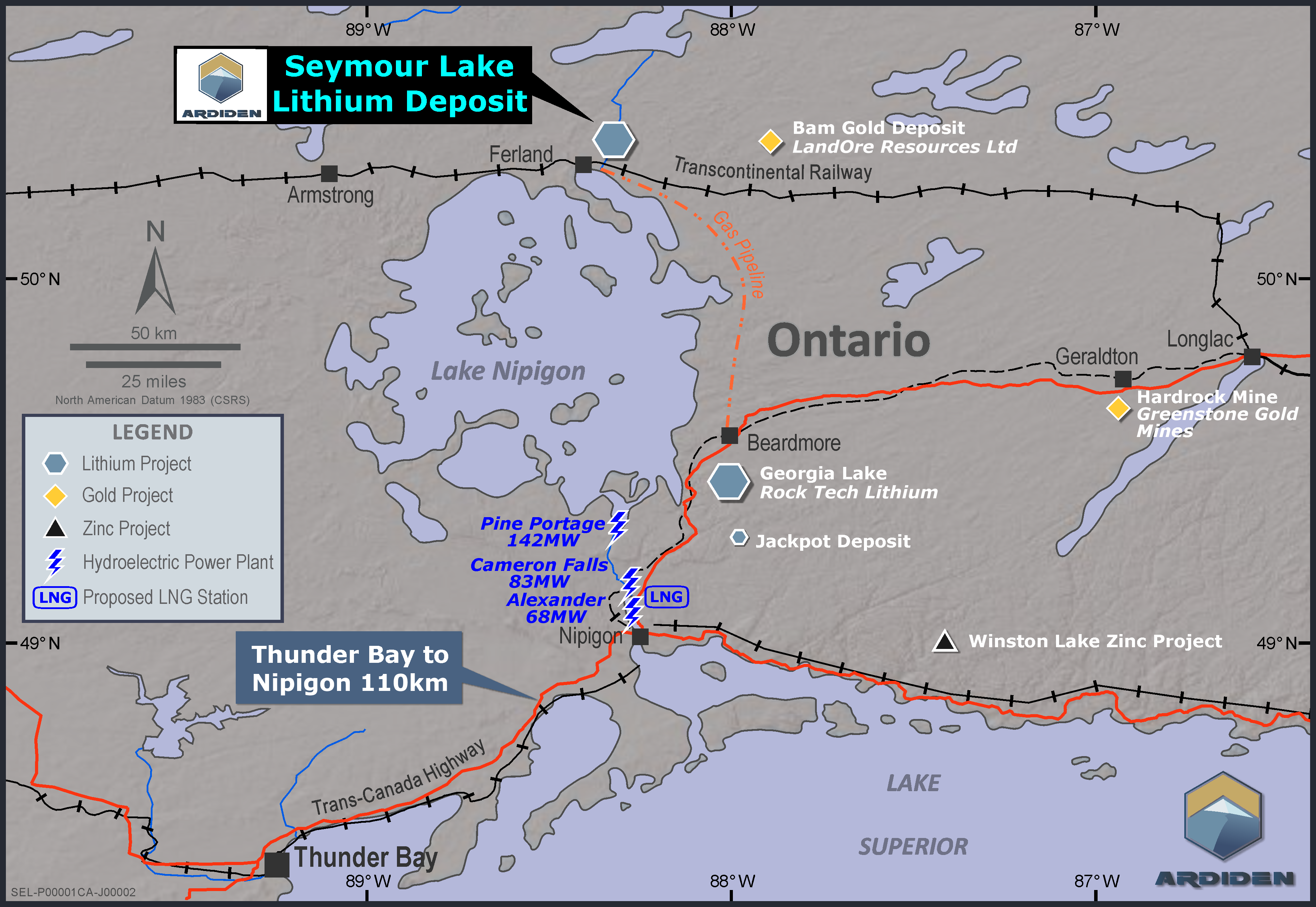 Seymour Lake Lithium Project is surrounded by numerous hard rock spodumene projects.
Testwork from a 2.5-tonne bulk sample at the Seymour Lake Lithium Project demonstrated:

High quality metallurgical characteristics supported by proven production of:
High quality 6.05-7.04% Li2O Spodumene Concentrate with high recoveries (85.6%-91.6%)
Standard Battery Grade Lithium Carbonate (99.52% Li2CO3) with high conversion rates (90%)
Low impurity levels 0.57%-1.03% Fe2O3.
Infrastructure proximity being adjacent to the Ferland Rail Station on the Transcontinental Canadian Railway, and
Immediate access to the US Market via Thunder Bay and Lake Superior to American production industries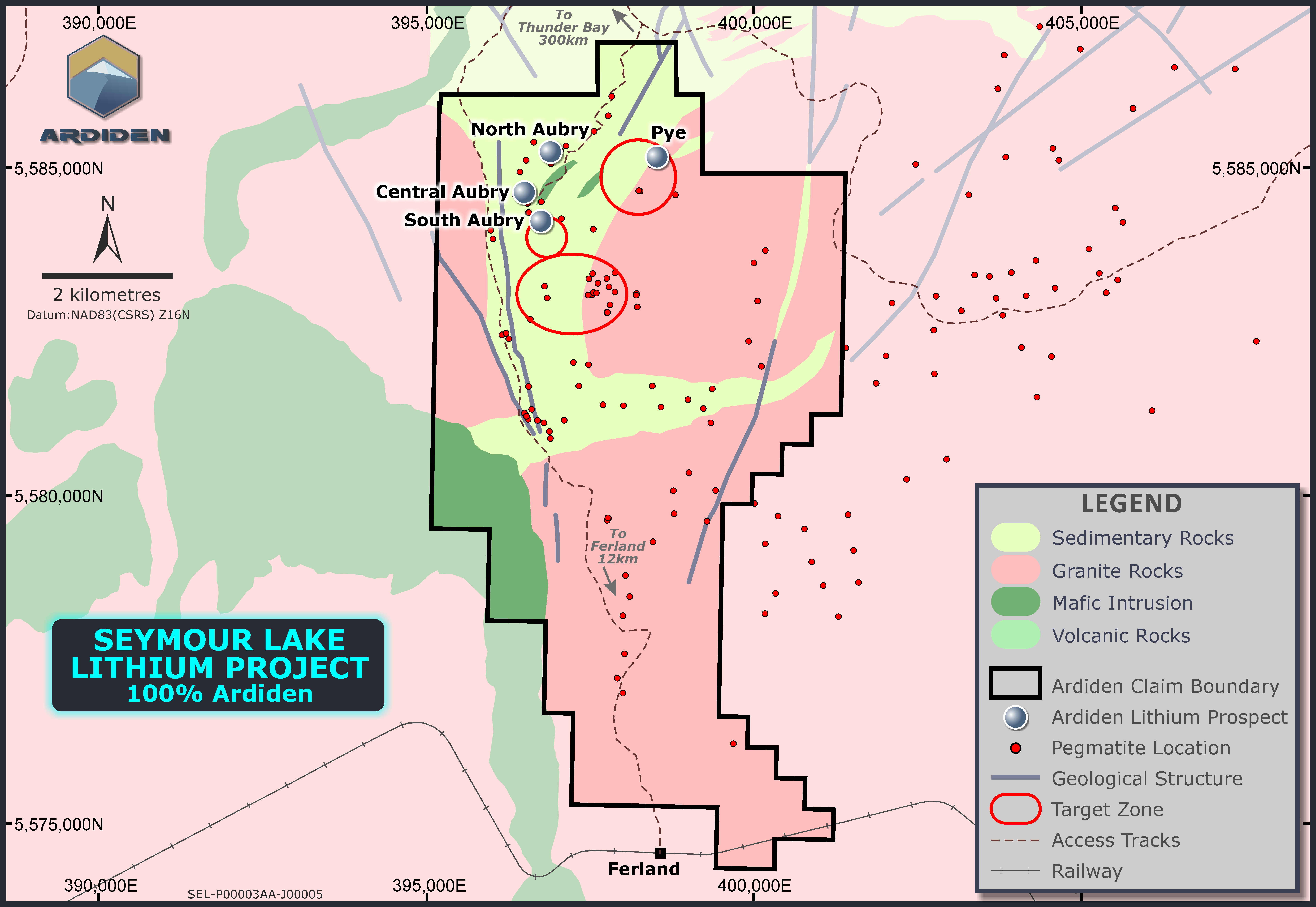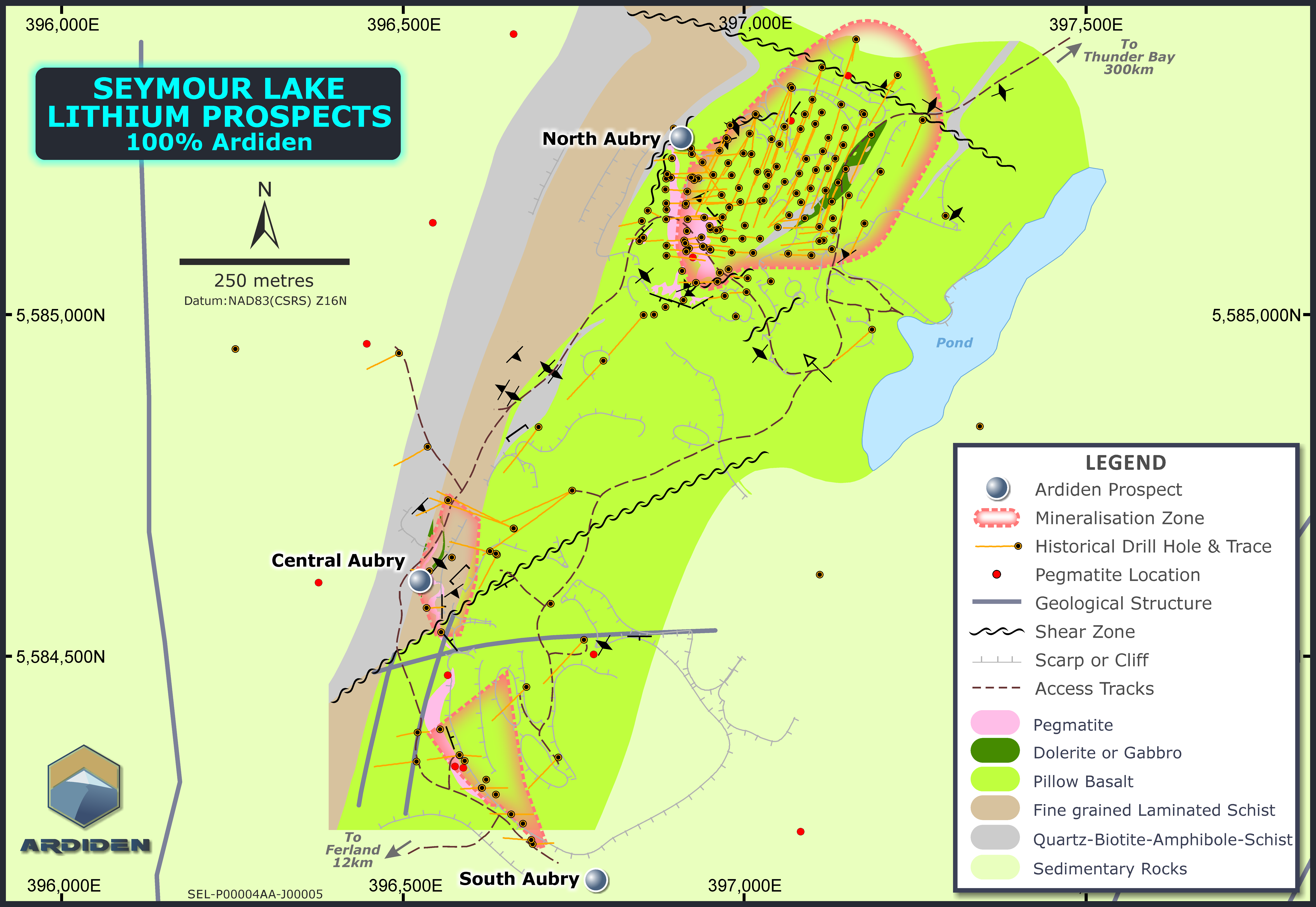 Wisa Lake Lithium Project
Wisa Lake Lithium Project has five Spodumene Pegmatite drill ready targets and is close to railway transport and the US border.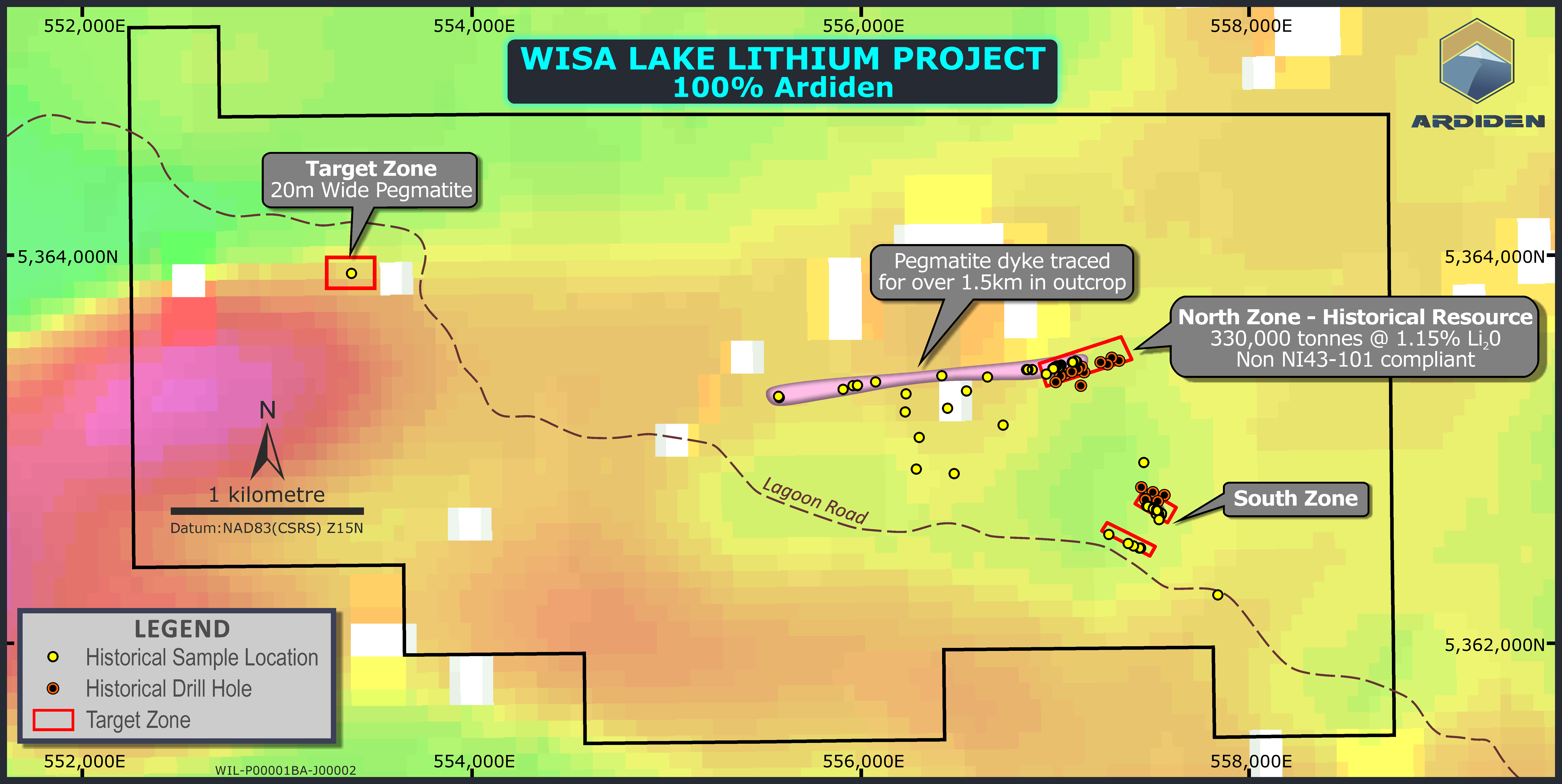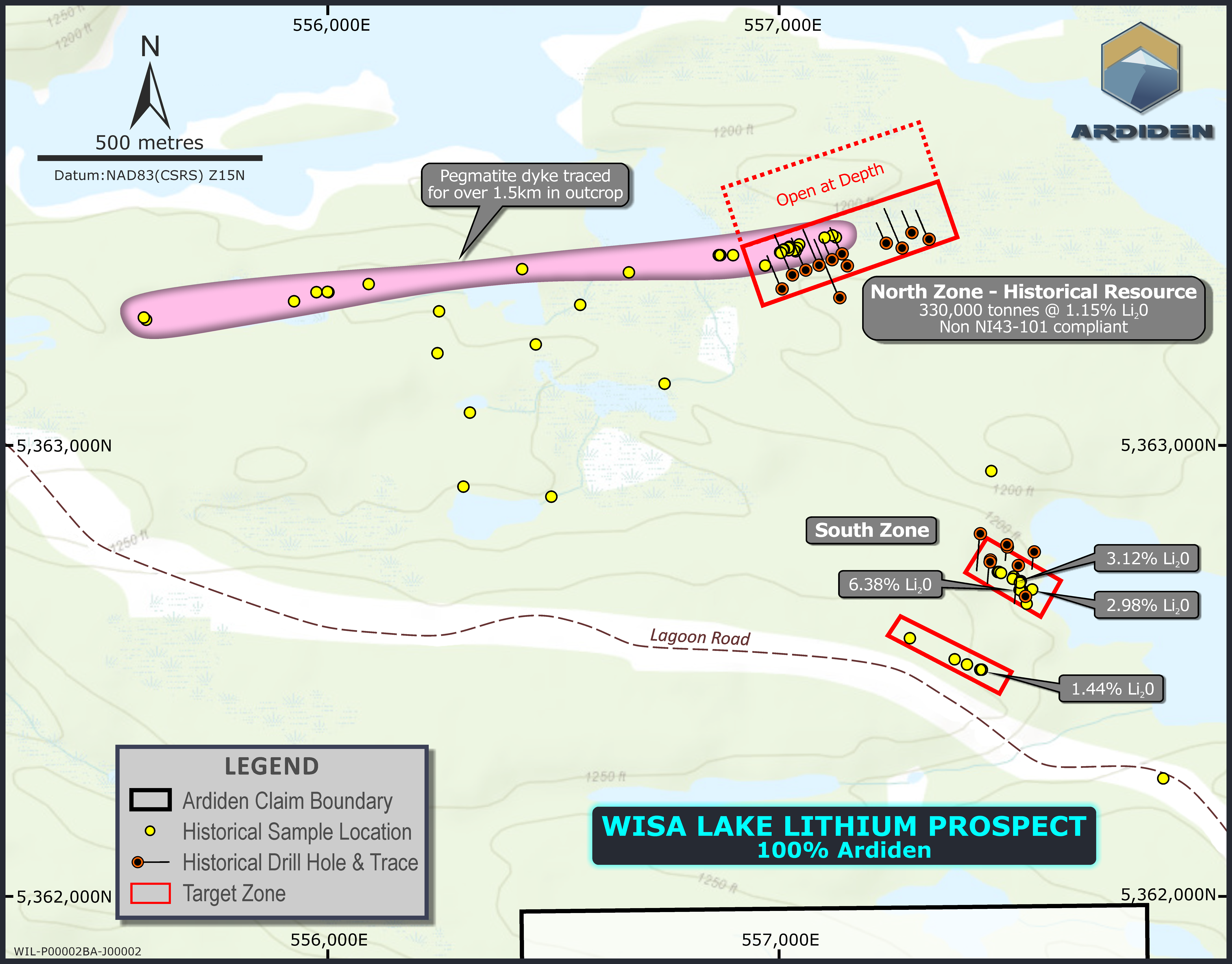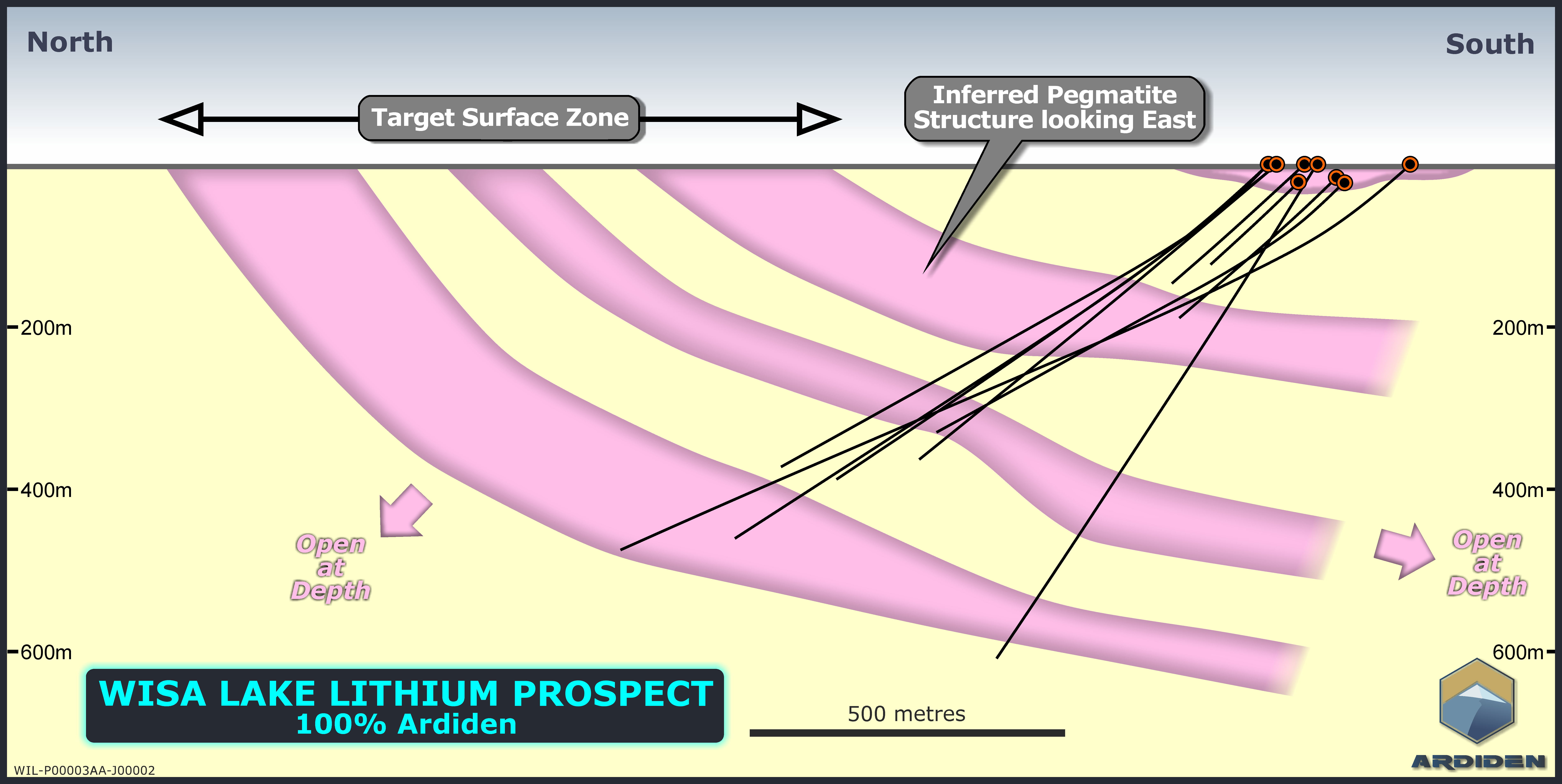 Root Lake Lithium Project
Root Lake Lithium Project is located close to Ardiden's Pickle Lake Gold Project and has historical Resources and multiple outcropping Pegmatites and has walk-up Spodumene drill targets.