Other Gold Prospects
The Pickle Lake Gold Project consists of 1088 km2 of highly prospective connected landholding containing three gold deposits (Kasagiminnis, Dorothy and Dobie) and 23 other identified brownfields and greenfields gold prospects.
Ranking Ardiden's 23 Prospects is paramount as the company determines its key factors as part of its Exploration Strategy going forward. The criteria utilised to display organic growth across the 1088 km² Pickle Lake Gold Project is defined with our Exploration Target Ranking.
Geological Setting: Uchi Sub Province, Archean Greenstone belt with structural complexity (BHFZ)
Project Size: Belt Scale Project with potential gold grade of targets
Logistical Access: Accessibility to conduct exploration on the target
Risk Factors: Can this target reach its potential based on known information to date
Timeframe: Challenges and constraints to produce a resource
The Company has segregated the 23 prospects into "Regional Hubs" with the Eastern Hub, Western Hub, and Southern Hub at the Pickle Lake Gold Project.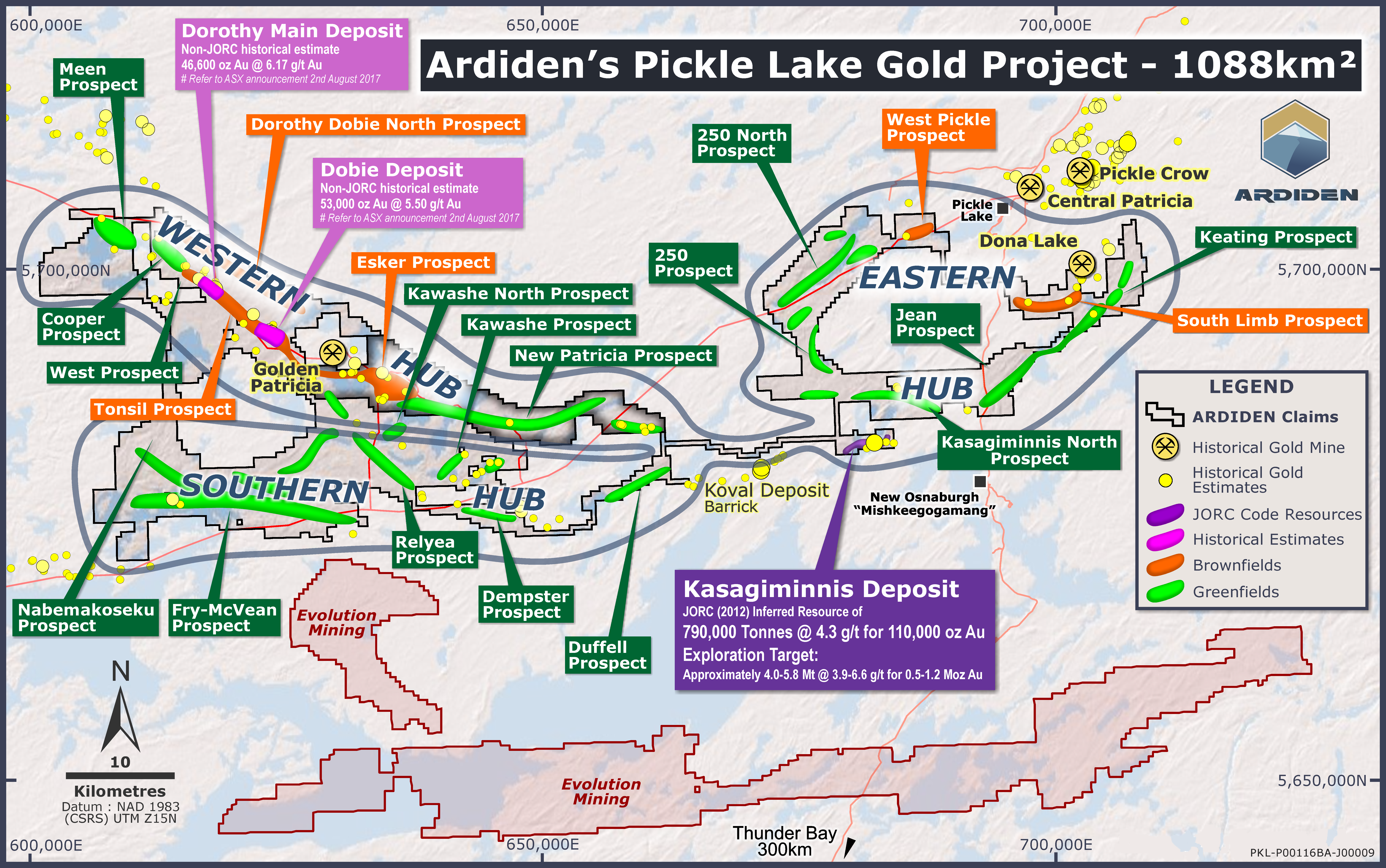 Ardiden's Pickle Lake Gold Project highlighting the Western, Southern and Eastern Hubs. 
The Eastern Hub:
Includes the Jean, Keating, South Limb, Kasagiminnis, Kasagiminnis North, 250, 250 North and West Pickle Prospects.
The fully permitted West Pickle, 250 and 250 North Gold Prospect includes more than 15km of prospective geological setting directly along strike to the nearby Central Patricia underground mine, which produced more than 600,000oz of gold at 12.5g/t Au.
The West Pickle Prospect has been explored by previous owners for nickel and copper and along with the 250 North Prospect is situated near the past producing Thierry underground mine, which produced 218,000 mt of copper, 6,900 mt nickel and 81,000 oz PGM+Au.
The 2019 completed airborne magnetic and EM survey discovered complex geological structures which will form the base of future gold exploration by Ardiden across the West Pickle Prospect.
Recent mapping was performed at the fully permitted Jean Prospect and has identified several prospective outcropping formations with the presence of alteration zones within folded pillow basalts. The Company plans to conduct more field studies across the Eastern Hub Prospects to unlock the potential of this region.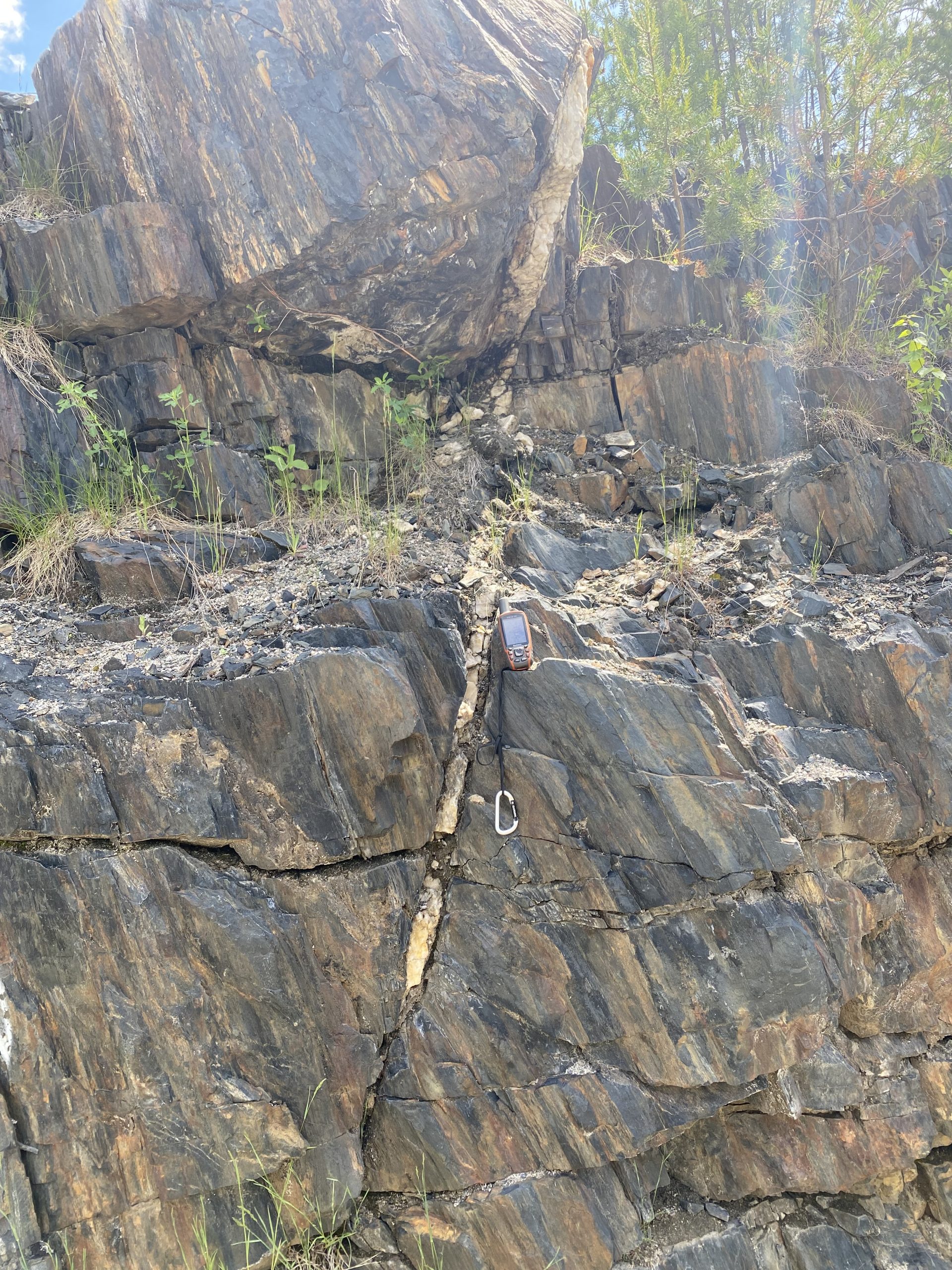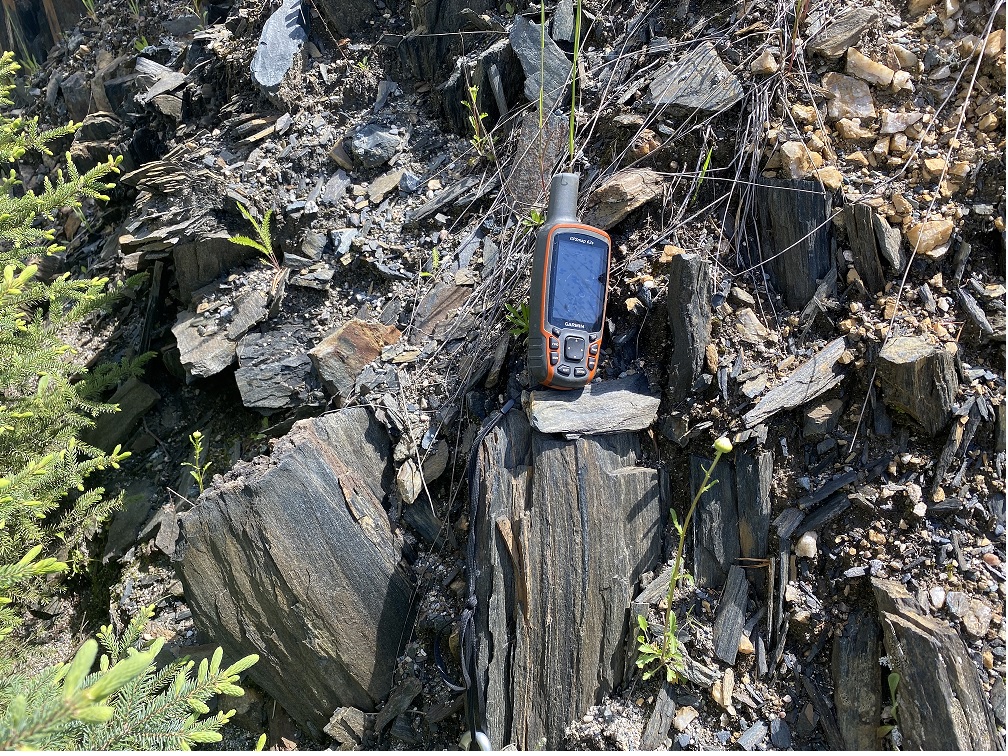 Outcropping Basalt at Ardiden's Jean Prospect.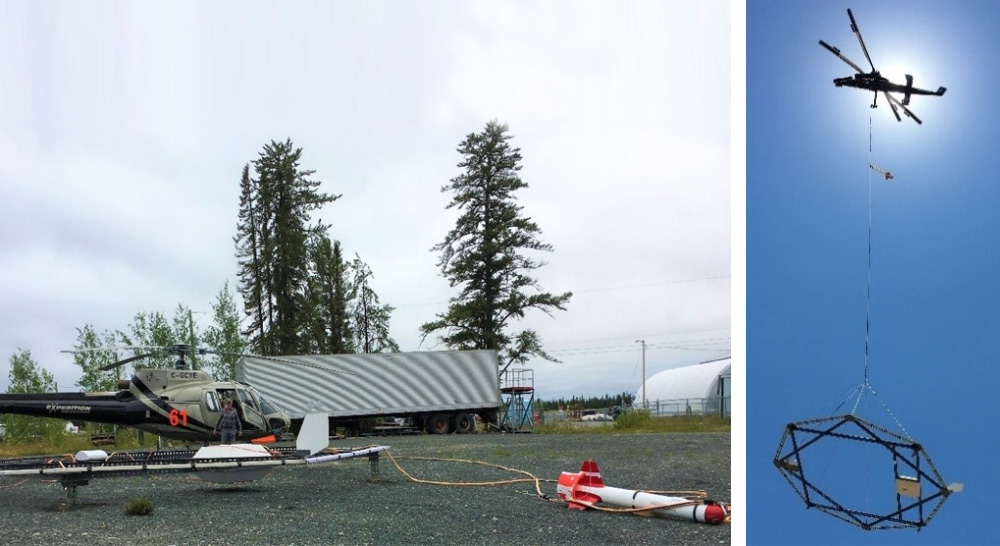 Geophysical Contractor setting-up at Pickle Lake Airport
Western Hub:
This includes both brownfields and greenfields prospects with recent early-stage exploration drilling being conducted at the Dorothy, Dobie and Tonsil Prospects.
Along strike on the Bear Head Fault Zone Ardiden has two greenfields prospects in Cooper and Meen that represent a continuation of the Golden Patricia style mineralisation. This combined with over 10km of prospective strike length along the Western Hub that has seen very little early-stage exploration drilling represents several high priority targets that have been generated from the recent lithological and structural assessment work conducted by the company with Leigh Rankin and Southern Geoscience Consultants.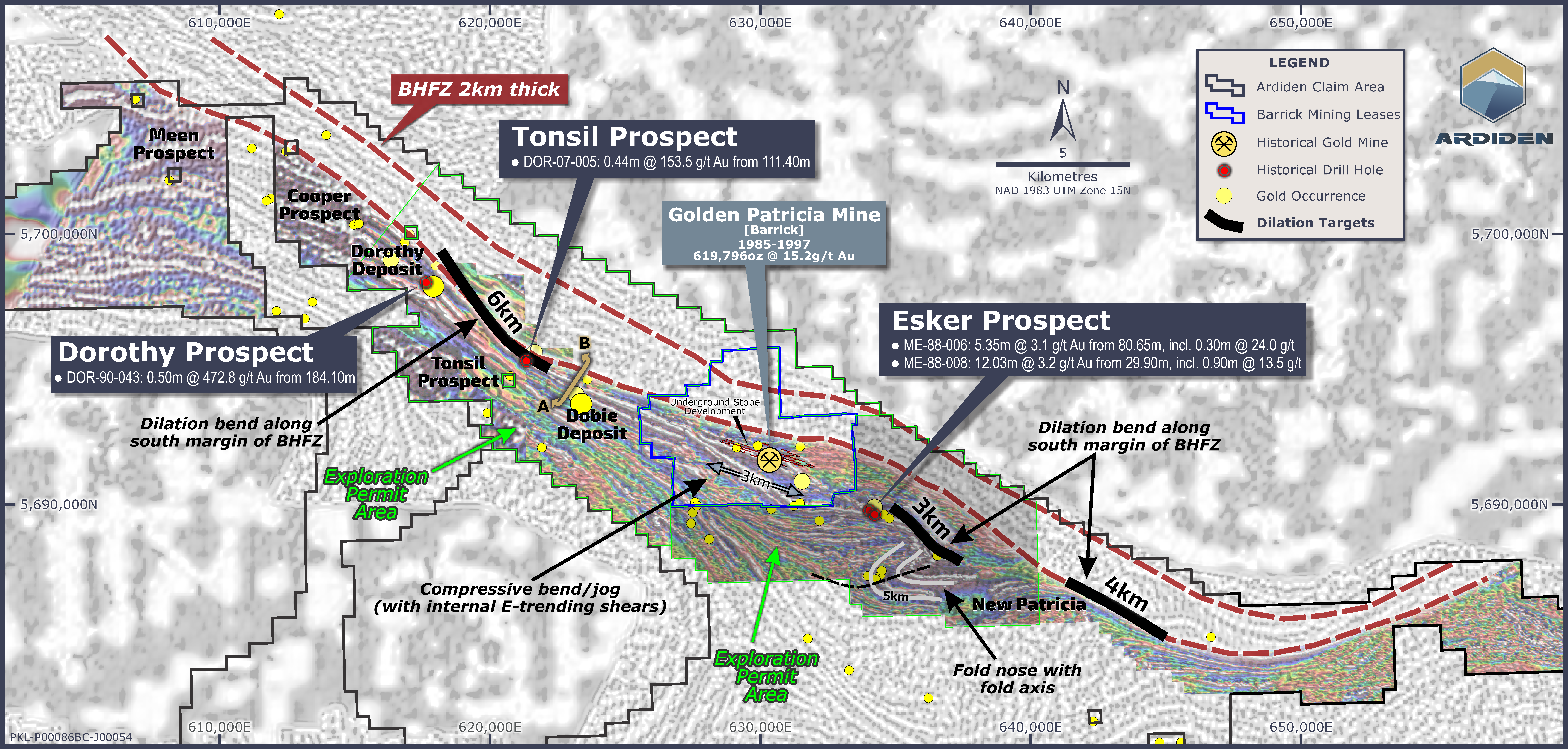 Ardiden's Western Hub, highlighting the Meen and Cooper Prospects. 
Southern Hub:
Ardiden's prolific Southern Hub has a number of historic gold showings with the Fry Mc-Vean, Relyea/Relyea North, Kawashe/Kawashe North, Dempster and Duffell Prospects. The Southern Hub has a series of deformation events along with the Fry-Bamaji Shear Zone in a sequence of felsic, mafic and ultra-mafic rocks. The Southern Hub has several high priority targets that have been generated as the company aims to unlock the value for shareholders while building a significant gold resource.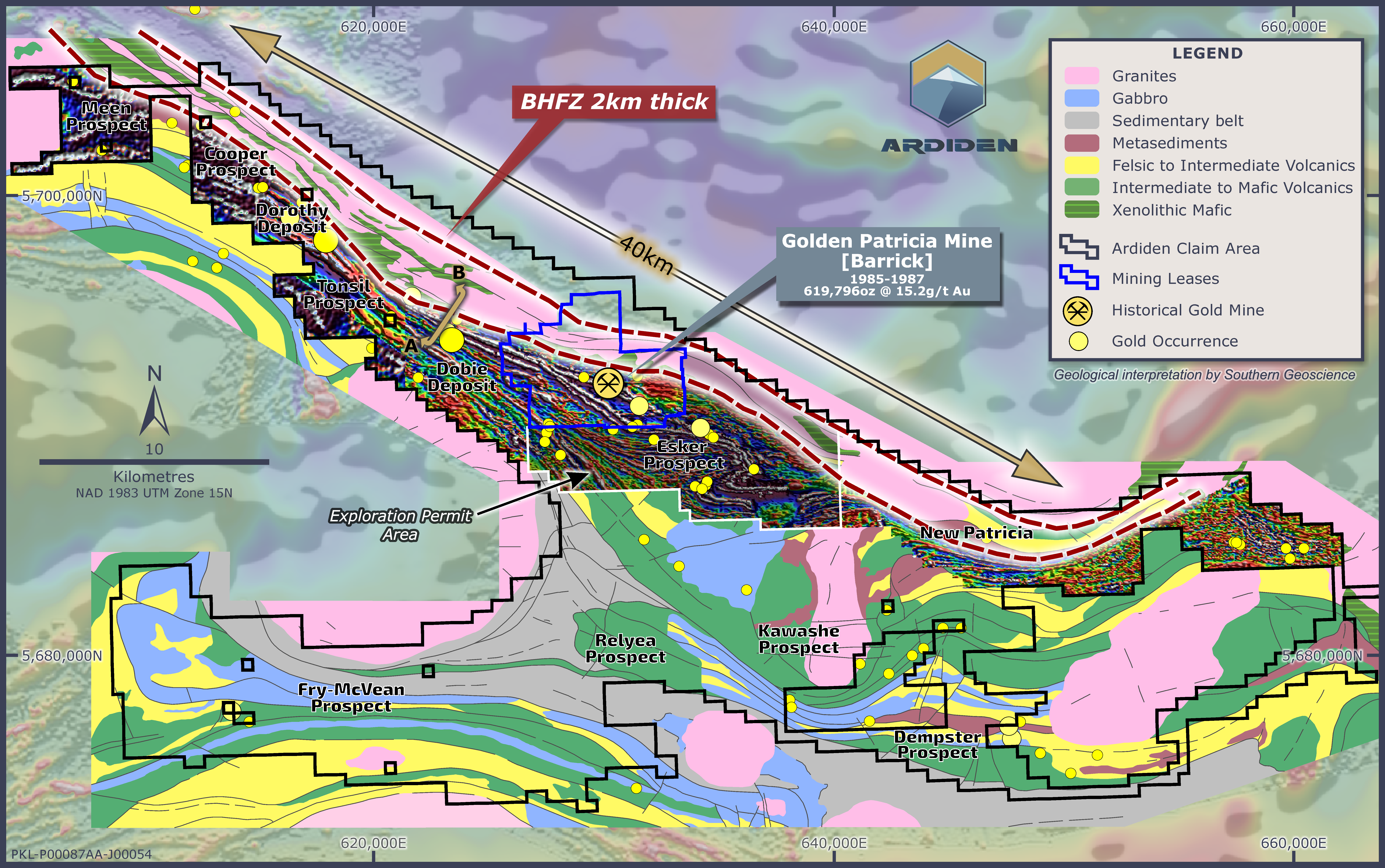 Ardiden's Southern Hub, highlighting the Fry Mc-Vean,  Relyea, Dempster and Kawashe Prospects.