Seymour Lake
Seymour Lake Lithium Project is located in northwest Ontario, Canada, about 60km from the settlement of Armstrong.
In March 2019, Ardiden announced a Mineral Resource Estimate of 4.80Mt @ 1.25% Li2O and 186ppm Ta2O5, representing a 400% increase on the maiden resource estimate of 1.23Mt @ 1.43% Li2O (October 2017) for the project. This was achieved by meticulous exploration planning and execution, resulting in an upgraded Mineral Resource at North Aubry, and the definition of a Mineral Resource at South Aubry.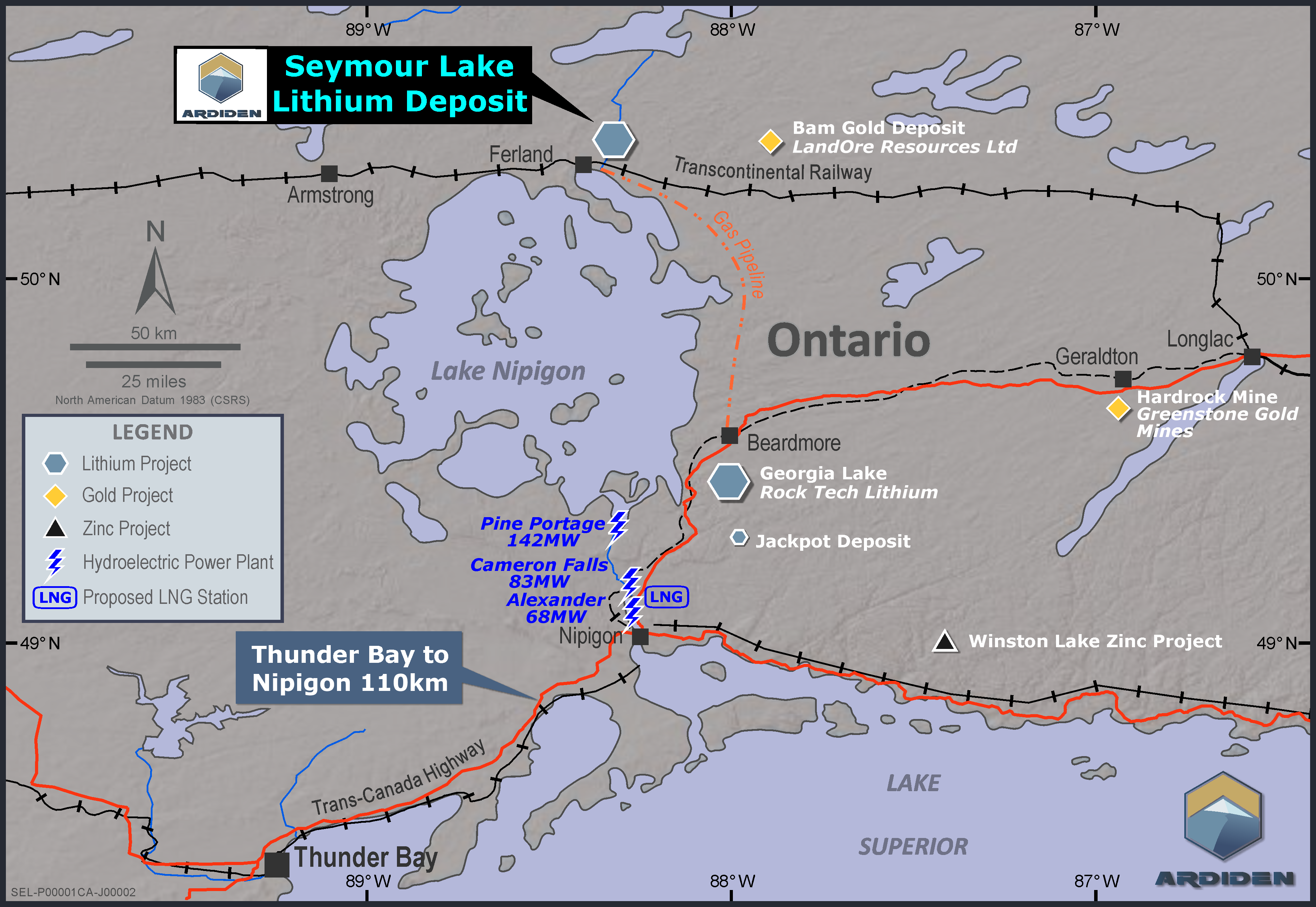 Seymour Lake Lithium Project is surrounded by numerous hard rock spodumene projects.
Testwork from a 2.5-tonne bulk sample at the Seymour Lake Lithium Project demonstrated:

High quality metallurgical characteristics supported by proven production of:
High quality 6.05-7.04% Li2O Spodumene Concentrate with high recoveries (85.6%-91.6%)
Standard Battery Grade Lithium Carbonate (99.52% Li2CO3) with high conversion rates (90%)
Low impurity levels 0.57%-1.03% Fe2O3.
Infrastructure proximity being adjacent to the Ferland Rail Station on the Transcontinental Canadian Railway, and
Immediate access to the US Market via Thunder Bay and Lake Superior to American production industries
In light of the current economic landscape for lithium concentrate supply and demand, Ardiden has been investigating strategic partnership options to best exploit the project's full potential and is in discussions to secure a partner or alliance for value extraction from Seymour Lake and its other spodumene pegmatite holdings in Ontario; Root Lake and Wisa Lake.